November 10, 2022 / edX team
Bridging Education Gaps: How Boot Camps Help Active-Duty Military and Veterans Succeed in Civilian Tech Careers
For members of the military, past or present, boot camps with edX can help them parlay their signature work ethic and problem-solving skills into a rewarding career in the tech industry.
For everyone, everywhere, edX steadfastly believes in the importance of creating more affordable access to high-quality learning opportunities—which in turn gives learners from all different backgrounds more viable pathways to career success.
One of the many edX offerings that help meet the needs of diverse learners are boot camps we deliver in partnership with over 50 universities worldwide. These intensive tech training programs teach real-world skills—in fields ranging from product management, coding, and data analytics to cybersecurity, digital marketing, UX/UI, and fintech—that are most in-demand with employers right now.
Particularly for members of the military, past or present, boot camps with edX can help them parlay their signature work ethic and problem-solving skills into a rewarding career in the civilian world. This can be especially true for the approximately 200,000 veterans who annually leave the military, to help them bridge any critical education gaps as part of their transition.
So as part of our commitment to increase access and affordability in higher education, edX is offering a 20% military discount for select boot camps in collaboration with over 25 university partners through the end of 2022. Active duty military, veterans, reservists, and members of the National Guard are all eligible for this limited-time offer.
"The Kind of Career Advancers That Boot Camps Were Made for"
For Kory Ball, a former staff sergeant in the U.S. Army who's now on the edX boot camp admissions team, creating more access to opportunity for those who have served is particularly exciting.
"People who've been in the military know what it takes to succeed," he says. "They're used to jumping in head first and being pushed beyond what they think are their limits, trusting they're going to come out stronger on the other side. That's why veterans are the kind of career advancers that boot camps were made for."
Kory is one of nearly 300 dedicated admissions professionals who combine perceptive listening, emotional intelligence, and a deep understanding of the curriculum to help learners understand what it takes to be successful in a boot camp and how it can match to their interest and goals. When speaking to individuals with a military background, Kory emphasizes how boot camps with edX play to their strengths and can help them quickly and affordably upskill and reskill to gain a competitive edge in today's job market.
"Learners from all across the spectrum of experience can and have succeeded in boot camps with edX," he explains. "When we specifically talk to someone from the military, we point out how these programs naturally align with how they already think and act. And they know what a 'boot camp' means. So they're going to get the most out of the learning experience for themselves and also add value for their entire cohort."
Cutting out the Fluff and Layering in Support
In their conversations with service members, admissions counselors highlight how boot camps with edX focus on technical disciplines that many from the military are intrinsically drawn to. They also help learners understand how the boot camps offer many flexible options—part-time or full-time, online or in-person, depending on the university—and how the curriculum is continuously market-relevant in real-time.
"We explain to learners that, through the relationships we have with our vast employer partner network, we stay connected to the skills that companies are needing and looking for the most—and then that insight gets swiftly infused back into the curriculum," Kory says. "For military folks, they tend to appreciate just how much the boot camps cut out the 'fluff' when teaching those core skills in a streamlined way. Their boot camp training also gives them a clear understanding of how they'll apply those skills day-to-day in the civilian sector."
Given the multitude of challenges associated with transition from active duty to civilian life, veterans often look for ways to receive additional aid during a time of immense change. They receive that ample assistance directly through services that come standard with boot camps.
"On top of the quality education, the boot camps provide a ton of support—from the instructor, TAs, and optional tutor to the classmates they bond with while working on projects together," Kory shares. "Boot camps with edX are fast-paced, so if learners need extra one-on-one attention at any point, it's there. There's also the career services team that reviews learners' resumes and cover letters, helps them fine-tune their project portfolio, hosts networking events with hiring managers, and more. So when learners complete their boot camp four to six months down the line, they hit the ground not just running but sprinting."
From the Air Force to Software Engineer
Cesar Perez is one veteran who did just that after graduating from a boot camp with edX. Following high school, he joined the Air Force and became an aircraft maintenance mechanic. When his service was over, he learned C++ and Java fundamentals at a community college. But after transferring, his passion for coding began to plateau. Chris's experience in the University of Arizona Coding Boot Camp landed him a role as a software engineer at American Express. Today, he's a senior software engineer at Formidable.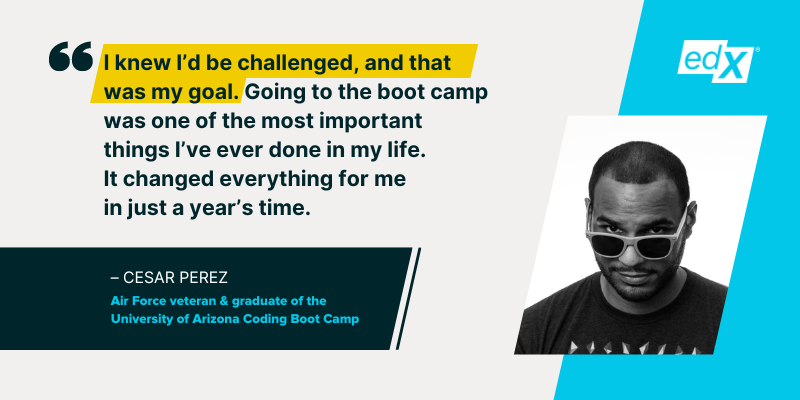 From the Marines to "the Happiest I've Been in My Life"
Chris Helm is another veteran who launched a successful civilian career after enrolling in a boot camp. Following two tours of duty in the Marine Corps, he found himself wondering: What's next? He had always been fascinated by computers but knew very little about them. With the Case Western Reserve University Coding Boot Camp, he decided to finally set his curiosity into action. The skills he learned led him to a role as a software engineer at a small tech startup—and today he's a web developer for a maritime shipping agency.
Catapulting Veterans—and All Learners—Ahead of the Game
Cesar and Chris are just two of the many veterans who've leveraged the power of edX to secure a lucrative and fulfilling career beyond the military.
"Ultimately, we're here to help guide all learners to make their own informed decision," Kory says. "When I transitioned from the Army, I would have loved to have all these great education options at my disposal. I could have chosen a boot camp toward very specific training and catapulted myself years ahead of the game. I hope people today—military or otherwise—see all the fantastic outcomes that can come from learning with edX."