November 21, 2022 / edX team
Building the Future: How This edX Course Is Helping Architects and Engineers Harness the Power of Data
Discover how the National University of Singapore's online course Data Science for Construction, Architecture, and Engineering—a 2021 finalist for the edX Prize—gives learners valuable tools for leveraging data to make better decisions when creating sustainable, state-of-the-art buildings for the future.
At edX, we're committed to forging a future where affordable, flexible, high-quality education is available to everyone, everywhere. But this future wouldn't be possible without the passion, expertise, and collaborative spirit of our 230+ partners from all around the globe. Our annual edX Prize is one of the many ways we celebrate our partners in leveraging the edX platform to unlock human potential in innovative and engaging ways.
Last week, the nominees for the 2022 edX Prize were announced—all dedicated educators whose exceptional courses amplify the powerful role that online learning plays in the transformation of education today. While we await news of the winner, we're taking this week to reflect back on the outstanding contributions of one of our 2021 edX Prize finalists: The National University of Singapore (NUS).
Data as a Superpower
"Data science doesn't have to be rocket science," says Dr. Clayton Miller, creator of NUS's edX Prize-nominated course, Data Science for Construction, Architecture, and Engineering. He knows that a little data science training can go a long way toward helping building professionals make better design, construction, and operations decisions.
Nearly 15 years ago, Miller traveled to Singapore on a Fulbright Scholarship to study how commercial buildings can save energy, reduce their carbon footprint, and improve occupant comfort. Through his research, he realized that buildings' control systems—such as thermostats and electrical grids, which encompass thousands of sensors—generate vast amounts of data that go unused.

Inspired by this latent potential, Miller learned Python and other coding skills to more closely analyze this data. He began hosting workshops to show colleagues that "wielding these tools is like having a superpower that many in our field don't know about yet—and yet, they're not secret weapons only hardcore data scientists use."
Once he became an NUS professor, Miller continued teaching data science to budding architects and engineers through courses on campus. But he was eager to share his curriculum with wider audiences.
"I wanted to bring my learnings to the world in a more scalable way," Miller says. "That's when I discovered NUS had become a partner with edX. NUS is an emerging university on the world stage, so they see creating content on the edX platform as an important way to gain more international recognition."
Taking advantage of the new partnership with edX—which currently includes 18 massive open online courses (MOOCs) on a variety of topics, a professional certificate in Spatial Computational Thinking, and several upcoming executive education offerings—he applied for funding to develop a MOOC that would help NUS reach a global community of learners. For over a year, Miller worked closely with the support teams at NUS and edX to translate his curriculum into an online format and set the course up for maximum visibility.
Their efforts paid off, attracting over 5,000 course enrollments in its inaugural run. The course's current run has already enrolled over 10,000 learners.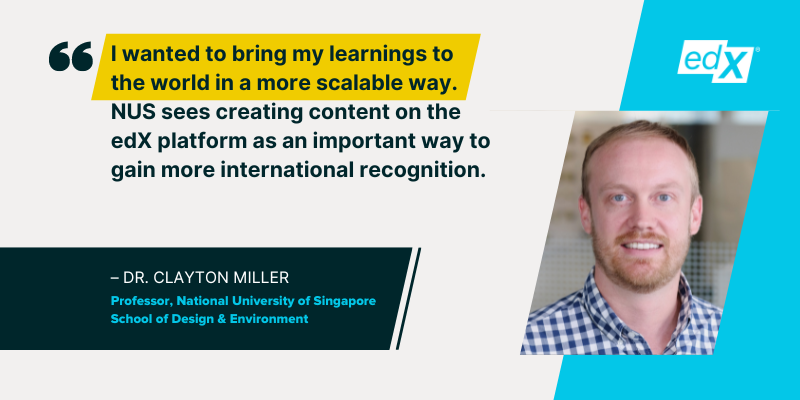 Interdisciplinary, Hands-on Skills for the Real World
"One differentiator with the course is that it's designed to dive quickly into practical, hands-on skills," Miller says. "We use real-world data from buildings that many learners could use in their actual jobs, like machine learning models to predict and optimize occupants' health and happiness."
The MOOC takes learners through several tools, including Python, to help them understand, visualize, and apply data in impactful ways. Miller believes that teaching a hybridization of skills—in this case, data science within a specific context—helps keep learners engaged.
"That's really the foundation of data science: knowing how to convert data so that a decision-maker can use it," he says. "So beyond all the videos (example below), screencasts, and interactive exercises we integrated into the course, perhaps one of the most innovative aspects to it is simply this convergence of data science with architecture and construction. Taking an interdisciplinary approach helps spark learner motivation, because you're making the information relevant to what they do every day."
By dividing the curriculum into three primary units—design, construction, and operations—Miller highlights how data science relates to the different phases of a building project. This gives the course broad appeal to the different professionals who work on each phase: architects and engineers, construction supervisors, and facilities managers.
"Our goal was to give these different audiences a more holistic view of the entire building process from start to finish," he explains. "Oftentimes on projects, people are experts in their own phase but not so familiar with the others. With this course, we're trying to break down silos within the industry and get all stakeholders appreciating what their colleagues do, so that the building process is more seamless and cohesive."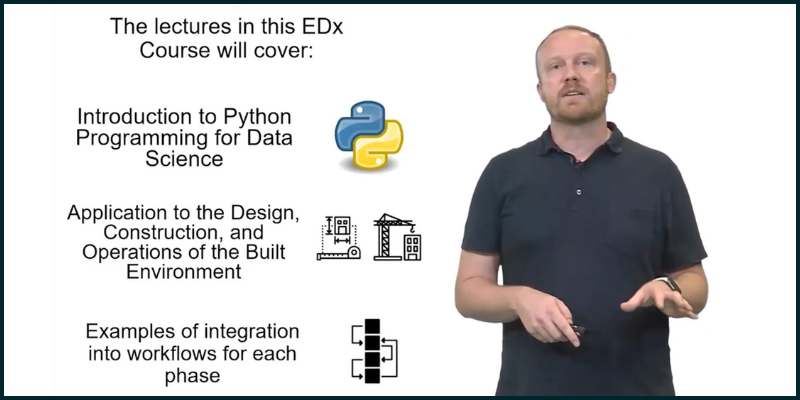 Success Built from Passion
For Miller, the course's widespread success has been highly rewarding. At conferences, budding researchers approach him to say how much the MOOC has helped them. "That's one of the coolest things," he says. "When I see others starting to use these data tools in their own building projects and experience that overwhelming sense of possibility, it feels like I'm witnessing magic."
He's also proud to have contributed to NUS's greater mission. "I think the edX Prize recognition opened other faculty members' eyes to how they can reach wider audiences with edX courses," he says. "There are now several MOOCs in the pipeline at NUS. I hope to add to NUS's portfolio by creating additional courses in areas like urban scale analytics, energy, and occupant-centric design that together stack into a professional certificate."
In the short term, Miller has become a de facto edX ambassador in his field. "When educators ask me what it takes to create a successful MOOC, I tell them it's all about passion," he says. "If you have a burning desire to share your message with learners, then creating a course on edX will be really fruitful. That passion will supply you with plenty of motivation to get your message out into the world."