October 31, 2022 / Anant Agarwal
Delivering on Our Promise to Give Learners More
When edX and 2U became one company, we made a promise to 45+ million learners to satisfy their hunger for more. Today, we're delivering: Boot camps are now fully integrated into the edX platform.
From day one at edX, we've put learners at the center of everything we do—and today, that mission feels especially good.
It's been nearly a year since edX and 2U formally became one company, and at that juncture, we made a promise to the more than 45 million learners who've entrusted us to help make a difference in their lives. In collaboration with our partners, we pledged to harness our collective power to keep delivering at scale the high-quality education that learners demand—and also satisfy their hunger for more.
With today's announcement that boot camps are now fully integrated into the edX platform, we're delivering on that promise to continue meeting learners where they are and give them more. More "right size, right time" choices for what, when, where, and how they want to learn. More flexible pathways to career success and personal fulfillment through a continuum of online learning offerings, from free to degree. And more ways to unlock their full potential with a single destination for accessible and affordable world-class education at any stage in their lives.
Through the 200+ boot camps we offer in collaboration with 50+ university partners worldwide, 60,000+ graduates so far have leveraged intensive, skills-based, career-relevant training in tech fields ranging from coding to cybersecurity to data science. They've been hired by 6,700+ employers including Google, Target, State Farm, H&R Block, AT&T, Walmart, Visa, Nike, Bank of America, and many more. And in a 2021 Gallup report, the average boot camp graduate surveyed saw their salaries increase by a median of $11K one year after completing their program.
Beyond these remarkable outcomes, I also love that boot camps enable learners from all different backgrounds to upskill, reskill, and accelerate or pivot their careers. Like TJ Livermore, an HVAC technician turned digital forensic analyst. Kennadee Ray, a waitress and single mom turned digital exchange engineer. Matthew Caspento, a bartender turned cloud operations engineer. And Alix Friedman, a garden center manager with a high school diploma turned tech support associate at one of our employer partners. On edX, it doesn't matter who you are. There's a course or program waiting to spark your interest and help you carve out the future you've always envisioned for yourself.
And now that boot camps are a core part of edX.org—complementing over 4,000 educational offerings in total from over 230 partners around the globe (and growing every day!)—learners have more interconnected modular and stackable options than ever to help them chart their own path. They can now come to a boot camp as the next step in their learning on edX, a journey that perhaps began with a free massive open online course (MOOC). And graduates from boot camps can now springboard into even deeper learning across the platform, such as with a MicroBachelors® program, an executive education course, a fully online bachelor's or master's degree, or MOOCs on different topics to regularly quench their appetite for more.
The beauty of all these possibilities is that, as more and more learners discover the power of edX as one unified, convenient platform for all their educational needs, they exponentially build on their knowledge and skills in ways—and toward goals—we've only begun to imagine.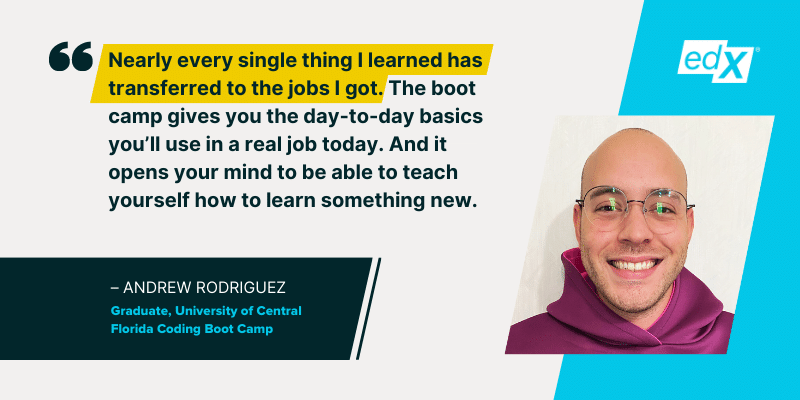 Like these four boot camp graduates: Andrew Rodriguez, who bounced back from a COVID layoff to land a role as a software engineer and get back on track for a bachelor's degree. Mubashira Qari, who re-entered the workforce as a data analyst after her kids left for college and found the confidence to pursue a master's degree. Akibo Watson, an executive recruiter who used our career services and got hired as a senior technology venturing and innovation analyst. And Sarah Kinneer, who went from special education teacher to digital solutions engineer—and all along the way has taken edX courses for herself, her career, and even to train colleagues when she got a promotion.
Their stories are just four examples of the transformative and meaningful impact that edX can have on learners' lives. And today, with boot camps now fully on our platform, we're taking yet another bold and important step in seeing our mission through: to give hard-working people with families, hardships, and dreams more ways to get inspired to learn, overcome obstacles, secure a rewarding career, and keep their passions burning bright. The unique journeys of all our learners remind me why we've been trailblazing this global movement to lifelong learning—and helping to address pressing societal challenges—for over a decade.
Now, everyone everywhere can take advantage of one integrated online platform to supercharge their education, make connections, find support, achieve success, and keep learning. No matter what they're looking for, where they're coming from, or where they're headed next.