July 17, 2022 / Mia Bartlett
How a New edX Access Partnership is Helping Tulsa's Underserved Populations Move into Tech and Boost the Regional Economy
Learn how Tulsa Community College, Tulsa Innovation Labs, and edX are creating "Tulsa 2.0" with a new Cyber Skills Center—a scholarship initiative offering adult learners no-cost pathways to job-relevant skills in data analytics and cybersecurity that can lead to life-changing careers.
Once known as the "Oil Capital of the World," the city of Tulsa, Oklahoma, has been steadily moving beyond its once-booming petroleum economy into more high-growth, tech-driven sectors. Today, major energy, aerospace, manufacturing, and tech companies make Tulsa their home as the city strives to simultaneously embrace the best parts of its past and build sustainable jobs for its future.

One way the city is transforming into "Tulsa 2.0" is through the combined efforts of two well-established engines of economic development: Tulsa Community College (TCC) and Tulsa Innovation Labs (TIL). TIL focuses philanthropic, federal, state, and private investments in five key economic sectors where opportunities for traditionally underserved Tulsans overlap with markets where Tulsa has a "right to win," channeling these investments through trusted institutions such as TCC. This new addition to edX's ever-growing roster of Access Partnerships becomes the latest testament to the collaborative power of educational institutions, nonprofit and workforce agencies, funding organizations, and diversity-minded employers working together to offer adult learners affordable pathways to job-relevant tech skills that, in turn, can lead to life-changing careers.

As edX's director of social impact partnerships, I'm excited for how this new Access Partnership is poised to not only help increase tech talent in the Tulsa region, but also address some of the area's long-standing economic inequities and racial/gender disparities. A central focus of the program is the Cyber Skills Center, a scholarship initiative that gives women, people of color, and lower-income professionals no-cost access to fully online training in data analytics and cybersecurity, two of Tulsa's most in-demand areas of expertise. TCC provides the training via edX's boot camp model, TIL—an LLC of the The George Kaiser Family Foundation—provides the core of the funding, and SkillStorm provides an optional apprenticeship after graduating.

"Given Tulsa's rich but challenging history, there's been a lot of soul-searching in terms of what the city's economic identity should be for the next hundred years, and who has a right to tell that story," says Conor Godfrey, TIL's cyber and analytics manager. "TIL looks for opportunities where Tulsa can trade on long-standing strengths in areas like cyber, advanced aerial mobility, or energy technology, while simultaneously bringing more Tulsans into tech-led, automation-resistant sectors. The edX Access Partnership helps us hit that sweet spot toward a more vibrant, inclusive, and future-forward Tulsa."

Adds Pete Selden, TCC's vice president of workforce development: "To make a real impact on Tulsa's economy, we knew we needed to target a diverse range of learners and also make the program free. When edX responded to our combined RFP, we looked at their boot camps and saw a lot of success in the model with their focus on intensive, short-term skills development and connecting folks with employers. What also stood out was edX's community spirit, their history of strong university partnerships, and what they've accomplished with Access Partnerships in other regions. edX seemed like the right fit to help us amplify Tulsa's tech ecosystem and decrease the area's workforce gaps."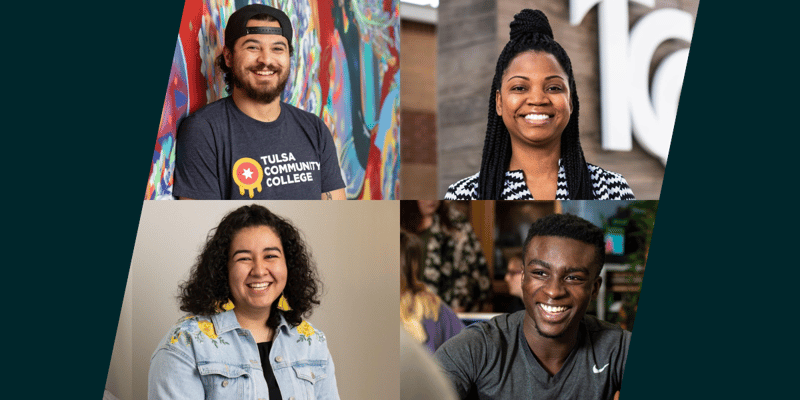 Solving for Access and Demand in Data Analytics and Cybersecurity
In its Tulsa Tech Niche study, TIL identified data analytics and cybersecurity as two key job creation areas. According to Burning Glass Labor Insights, Tulsa-area employers have posted over 4,800 data analytics and 3,100 cybersecurity jobs in the past six months. And at a national level, data analytics and cybersecurity employment is expected to grow 22% and 33% respectively from 2020 to 2030. Given this collective outlook, TCC and TIL knew these two disciplines were a smart starting point for the Access Partnership.

"While Tulsa has traditionally focused on oil and gas, the pandemic clearly highlighted the vulnerability of those industries," Selden says. "People here are now looking for more security in their careers and to be better situated for whatever the future may bring. With data and cyber, neither skillset is specific to just one field. Being able to help businesses organize and interpret data, and also keep that information private and secure, is in high demand everywhere. Here in Tulsa, we've got everyone from banks to hospitals to government offices all needing that expertise."

This October, the first Cyber Skills Center cohort will launch with 20 seats in data analytics and 20 in cybersecurity. An additional 80 seats in each discipline have already been funded for 2023, for a total of 200 seats in the program's initial launch period. Cohorts will run part-time on weekday evenings, so that learners can continue to work their current jobs and/or attend to family and other responsibilities during the day and on weekends. To further set learners up for success, TCC and TIL have honed in on the professional backgrounds that they expect will reap the most benefits from the program.

"We've designed the Cyber Skills Center in a way that speaks to three general kinds of applicants," Godfrey says. "They include mid-career professionals in areas like retail sales or hospitality who've used customer relationship or other software to some degree; more tech-savvy early-career professionals like entry-level accountants and HR professionals; and then people with perhaps no experience but who have a four-year degree. We feel these folks have enough translatable skills and professionalism to be able to do well in a data or cyber accelerated training program, so that they can legitimately meet the needs of area employers in those fields once they graduate."

Populations that have traditionally been underserved across Tulsa's economic landscape are also a main focus of the program.

"In all industries here, employers are saying they want to diversify their workforce—and especially in tech, we see those businesses disproportionately employing white men," Selden says. "If employers want to change their demographics, then the educational programs feeding their workforce need to prioritize diversity as well. TCC has focused on diversity, equity, and inclusion (DEI) for years; It's embedded in our mission and values and everything we do. So, we can help be that change agent for businesses in a way that's organic and intentional because at TCC, everyone can learn here; Everyone belongs."
Wraparound Support from Start to Finish—and Beyond
Another key aspect of edX's Tulsa Access Partnership is the wealth of community partners that TIL and TCC have brought to the table, who they've been able to build strong relationships and trust with and who know these target learners best. As we all work to create the Cyber Skills Center together, these local organizations are more than just referral sources for it. They're invested thought-partners helping to guide the entire process, promote the program, and support candidates through their learning journey. It's no secret that learners are most successful when they feel supported by people who understand their daily struggles and where they come from, so these organizations play an important role for when obstacles will inevitably arise. The Cyber Skills Center will also engage Retrain Tulsa, a trusted and experienced workforce partner, to offer additional wraparound services at no cost to participants, enabling them to remove as many barriers to learning as possible.

"Whether people need help with childcare, or reliable Internet, or transportation to a library or to our campus for a quiet space to study, we've tapped the services of over 30 community partners, and have additional funding sources earmarked, to get participants what they need to be successful in the program," Selden explains. "That's a huge differentiator, because every applicant will come to us with unique challenges. We want to be able to address whatever those circumstances might be, so that no one has a reason to say 'no' to this opportunity—and everyone can finish the program once they start."

The program's vast network of benefits and support doesn't end once learners complete their boot camp, however. Upon graduating, they can leverage the expansive career services that come standard with edX boot camps in order to directly connect with area employers in hopes of securing a new job. Or they can continue their education and apply to have their boot camp experience count as credit toward an associate degree at TCC or with one of TCC's local four-year degree partners, like Oklahoma State or the University of Tulsa. And some graduates may enroll in SkillStorm's paid apprenticeship program, giving them even more hands-on project work and real-world experience that can help them validate their skills with future employers.

"We've consciously integrated the boot camp-style training with multiple pathways forward to more firmly root graduates in their new field, so that they can pursue the choice that aligns with their interests and needs," Godfrey says. "One advantage of the apprenticeship is that eligible graduates have access to a contract to work either remotely for one of SkillStorm's national clients or in-person for one of its local clients, for a year beyond their initial 10-week job-specific training—which then opens up the possibility of landing an even longer-term contract. Down the line, that could make them even more attractive to Tulsa employers because they've been working with a major brand-name company that whole time. Our vision is that we'll eventually have hundreds of graduates infusing themselves back into the local economy this way."
"Broadening America's Scope of Opportunity and Innovation"
While philanthropic contributions are helping edX kickstart the Tulsa Access Partnership into action and offset the full cost of the program for participants, our ultimate goal is to demonstrate the program's value and ROI to a wide range of local employers, so that they invest in the program as a talent pipeline for their own workforce. Leaders from both Tulsa's business and nonprofit sectors have expressed interest in being a part of the admissions committee. Combined with all the other local organizations who've already joined us to help advertise, refer, recruit, and lend their wraparound support for the Cyber Skills Center, it's this hyper-local collective impact model that I'm most proud of achieving with TCC and TIL so far—bringing together as many Tulsan voices as possible to be a part of the process and to share in learners' successes.

"There's good money to be made in these technical fields, and they're going to change the lives of so many people in terms of gaining new skills and a new career and supporting themselves and their families," Selden says. "As more and more employers realize that the talent coming out of edX's Access Partnerships have been expertly trained and well-supported, they'll be more apt to sustain the program going forward for their own hiring needs."

"In Tulsa, we have a pretty unique, three-legged stool approach," Godfrey adds. "We've got incredibly engaged philanthropy, a social impact-focused corporate community with an eye for that double bottom line, and innovation partners like edX and SkillStorm who are helping us bridge the gap between where we are and where we need to go. Looking at the bigger picture, what's really going to distinguish Tulsa—and the United States for that matter—is not just what we're creating, but also who's participating and contributing their ideas and talents to it. With the edX Access Partnership, Tulsa can be a part of that narrative, helping broaden America's scope of opportunity and innovation."

~~~

Discover the collective power of some of our other Access Partnerships, including University of Central Florida, University of Denver, and University of Oregon in the U.S. as well as the University of Birmingham in the UK.