September 21, 2023 / edX
This Master of Social Work Graduate Turned Her Clinical Placement into a Full-Time Role Helping Youth and Families
Meet Colleen. She applied her learnings from Fordham University's online MSW program to her field experience at a youth care management organization—and made such an impression that they offered her a job to start after graduation.
Colleen is one of several learners featured in our 2022 Transparency & Outcomes Report who've leveraged the power of online education to transform their lives, their communities, and our world for the better.
~~~
After earning her associate's degree in art therapy, New Jersey native Colleen Runge decided to take a semester off before continuing her education. Six months turned into four years of working part-time at a retirement community and in unfulfilling customer service jobs. When she was laid off during the pandemic, her community college counselor suggested she pursue her passion for helping people through social work.
"We're in such a virtual world now, but human interaction is incredibly important," Colleen says. "And so is creativity—art, writing, etc. They're all therapeutic ways of coping. Social work seemed to be where I could use the power of all those things to support others."
Colleen embraced her counselor's recommendation and jumped into a bachelor's degree in the field. She had found her calling, but her time away from academics left her feeling disconnected from her classmates. Plus, her daily commute was a grind.
In searching for master's programs, Colleen wanted less commuting and more meaningful connections. Reputation, affordability, and flexibility all mattered, leading her to Fordham University's online Master of Social Work (MSW) program, powered by edX.
"I was looking for an option that was more on my own terms," she says. "Fordham's online MSW felt like the best fit for me."
Inspiration, Support, and Self-Care
Once in the program, Colleen appreciated the faculty's deep insight and encouragement—especially in her policy course, where she loved hearing different perspectives from students across the country.
"The professor was so inspiring," she says. "You could just hear the years of knowledge and experience she had accumulated. Social work is heavily based on policy and research, so it was eye-opening to hear from everyone what the guidance and regulations were in their states."
The online program afforded Colleen several other benefits. She learned how to better manage her time, hold herself accountable, and be more present for others.
"My student success advisor and I had some great conversations," she remembers. "She helped me stay focused and motivated and gave me lots of pointers for sustaining my energy through the day."
What also set Fordham's program apart for Colleen was its emphasis on helping social workers balance the important work they do with self-care.
"We are ultimately the tool in this field, which means we need strong mental health," she says. "Fordham teaches you how to take care of yourself, so that you can bring your best to others."
Real-World Connections
Halfway through completing her degree, Colleen began talking to the Placement team about where she could fulfill her clinical field experience, an added benefit of the program. Having worked with adults in her undergraduate program, she expressed a desire to become more well-rounded.
Working with Fordham's Graduate School of Social Science, the Placement team connected her with Partnership for Children of Essex (PCE), a youth care management organization in her same county. Colleen was excited that her supervisor was a graduate of Fordham's on-campus social work program.
"I had been working as a yoga instructor on the side, so I wanted to apply my holistic healing and strength-based approach to my interactions with families," she says. "PCE offered a lot of possibilities for that."
As a care manager intern, Colleen helped connect children and families to therapists and services, maintaining relationships with schools, child protective services, and other organizations in a child's system of care. She also frequently shadowed full-time care managers in their home visits. These experiences helped Colleen make connections between Fordham's curriculum and real issues facing children today, from gun violence to substance abuse to mental health struggles.
"I loved those full-circle moments where we'd start talking about a behavioral diagnosis in class and I'd think, 'Oh, I'm helping a child right now who's demonstrating that.' I'd then return to PCE and apply that knowledge to my work."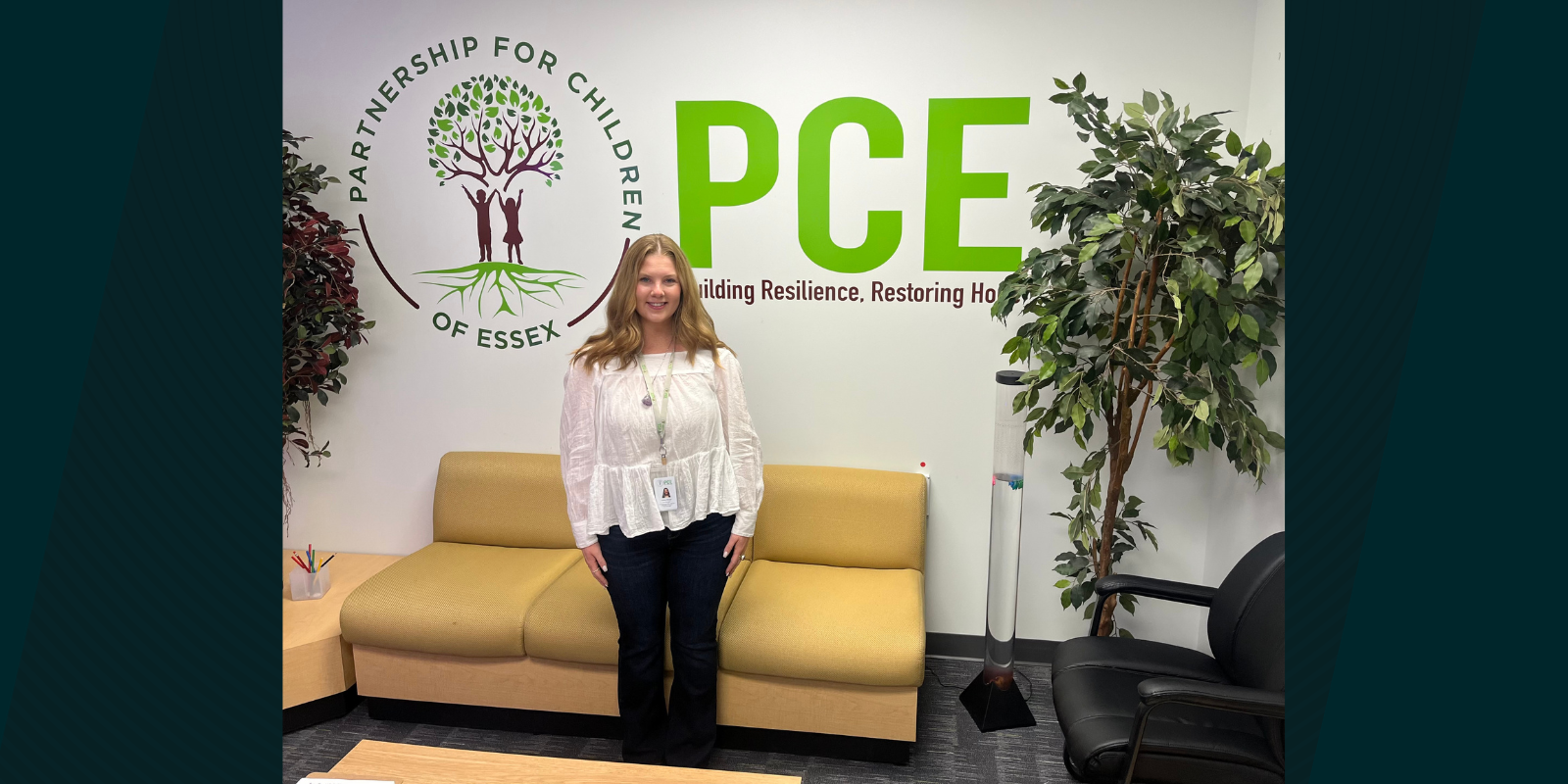 An Exciting New Chapter
Midway through her field placement, Colleen was making such an impression at PCE that they offered her a permanent position. Her new role would begin after graduation.
"I was so excited to finally become a real social worker!" she says.
Two months after earning her degree, Colleen walked into PCE as a full-time employee. Ever since, she has been building up her own roster of clients, working with families to assess both their challenge areas and strengths and helping to build a 360-degree support team around them: friends, school personnel, healthcare providers, other family members, etc. Together, they come up with an individualized treatment plan and meet regularly to monitor and modify it as needed.
"It's such a great feeling to be flying solo on my home visits," she says. "Over the last year, I've learned that I love working with children and families. And the outcomes are so much better when we offer a positive, yet empathetic approach to others during difficult times in their lives."
Colleen plans on taking her licensing exam in the near future—with big dreams to incorporate yoga, art, and other strength-based, holistic approaches into her practice. More recently, she was asked by Fordham to join one of their prospective student webinars and talk about her newfound success.
"Being recognized like that was a nice surprise," she says, "especially since I'm a first-generation college graduate. My mom never went to college and my dad never completed high school. To now be able to get my master's degree, so that as a social worker I can start helping others discover their own strengths, has been truly amazing."