August 8, 2023 / edX
With an Online Master's Degree from Syracuse, This Venezuelan Emigre Is Now Helping to Shape U.S. Immigration Policy
Meet Parvez. After a career pivot, his work at a nonprofit sparked his ambition to learn how to lead. Thanks to Syracuse's online program, he's now a VP in charge of refugee and immigrant services at the federal level.
>>> Parvez is one of several learners featured in our 2022 Transparency & Outcomes Report who've leveraged the power of online education to transform their lives, their communities, and our world for the better. <<<
From his own experience emigrating to the U.S. from Venezuela after college, Parvez Mohsin understands first-hand the challenges associated with moving to a new country. Now, as a leader at a respected nonprofit that provides aid to refugees around the world, Parvez is helping others navigate that complexity and settle comfortably into their new lives in the U.S.
But working with refugees wasn't always his life goal. After 18 years in New York City, Parvez relocated to Nashville, TN, to be with his wife, who had moved there several months prior for a job. Despite serving for 13 years as a museum curator and having two master's degrees under his belt, Parvez struggled to find employment.
He finally landed a contract caseworker position for a local nonprofit that provides area refugees with services like resettlement help and continuing education courses. Parvez quickly fell in love with the organization's mission and, nine months later, found himself directing the nonprofit's communications and growth efforts.
That's when he decided to set new goals for himself: to work for the U.S. government and lead a philanthropic organization focused on helping immigrants and those displaced from their home countries adjust to their new lives.
"If I can't help the world become a better place, I don't see the point of pursuing knowledge through higher education," Parvez says.
But as he contemplated his new ambitions and began interviewing for roles that would put him on that path, he realized it would be an uphill battle.
"The master's degrees I had were not putting me in the same caliber of other candidates," Parvez recounts. "So I woke up one morning, turned to my wife, and told her, 'I'm going to go back to school.'"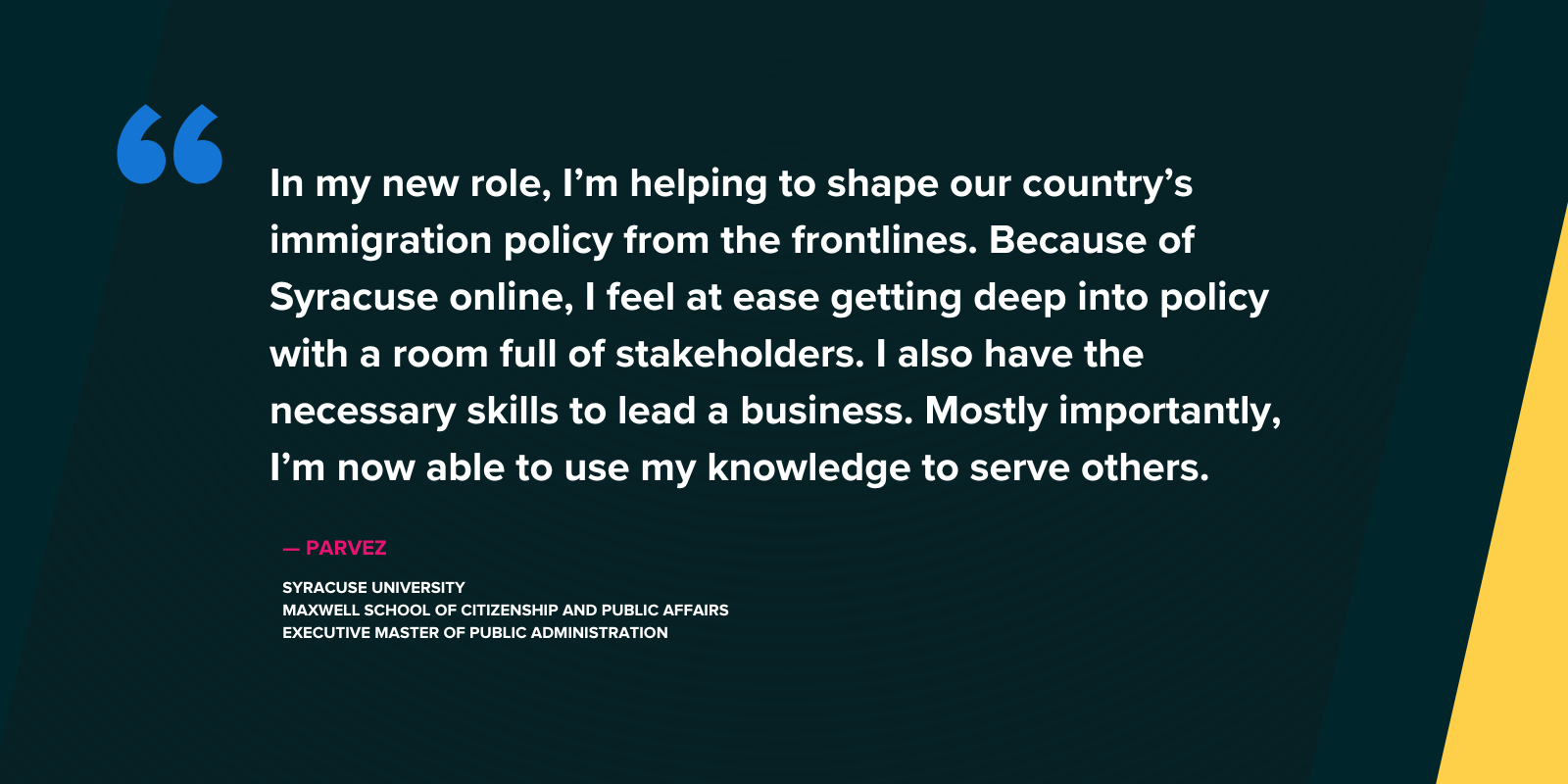 Immediate Real-World Applications
In looking for the right program, Parvez wanted to be able to keep his job while continuing his education. And as someone who had worked remotely even before the pandemic, he knew online learning was the best option for himself.
He chose Syracuse University's online Executive Master of Public Administration (EMPA) powered by edX—not only for its top-ranked program in the field, but also for its focus on national security. For someone like Parvez who wanted to work in immigration at the federal level, this was an ideal opportunity.
Soon, he was studying among a diverse group of learners, including law enforcement professionals, active military members, veterans, and finance professionals. He was also learning how to do all of the tasks that once seemed so foreign to him, like building and balancing corporate budgets. Through Syracuse's EMPA program, Parvez gained knowledge of how immigration policy is crafted in the U.S. and began to understand at a deeper level all that's required to enact change.
Back at his nonprofit, his studies had an immediate impact. For example, Parvez began securing more federal grants, bringing his success rate above 90%. And four months into the program, he was promoted to chief education and development officer, where he oversaw a multimillion grant from the Tennessee government to help over 1,500 refugees.
"My first two master's degrees were very theoretical. When I first joined the workforce, they didn't help me in any particularly practical way," he explains. "But everything I learned through Syracuse online was applicable to real life. It aligned completely with the reality of working in the U.S. government and learning how to lead an organization."
Accelerating His Future
For Parvez, two other benefits of the Syracuse online EMPA were its intensive curriculum and expedited timeline. He graduated in 14 months—nearly a year faster than he had initially expected a master's degree in public administration to take.
"The pace was really rigorous, which helped me accelerate my career," Parvez says.
When the time was right to begin searching for his next role, Parvez was thrilled with the response. "People were reaching out to me on LinkedIn for roles," he says. "I attribute that to having an EMPA from a top program."
In February 2023, Parvez successfully took the next big step in his dream career. At a global nonprofit, he secured a prestigious vice-president role in charge of refugee and immigrant services for adults and families.
The organization is one of the few accredited by the U.S. government to handle refugee resettlement in the country. Parvez is one of the main conduits for the nonprofit's relationship with key federal agencies, including the Department of Health and Human Services as well as the State Department, among others.
"In my new role, I feel like I'm helping to shape our country's immigration policy from the frontlines," he says. "Because of Syracuse online, I feel at ease getting deep into policy with a room full of important stakeholders. I also have the skills that are necessary to lead and run a business. But the most important thing is, I'm now able to use my knowledge to serve others."